Quilters Quest Valentine's Challenge
For our Valentine's challenge this year, we chose three patterns by J. Michelle Watts.


Hannah
Jeanne
Kate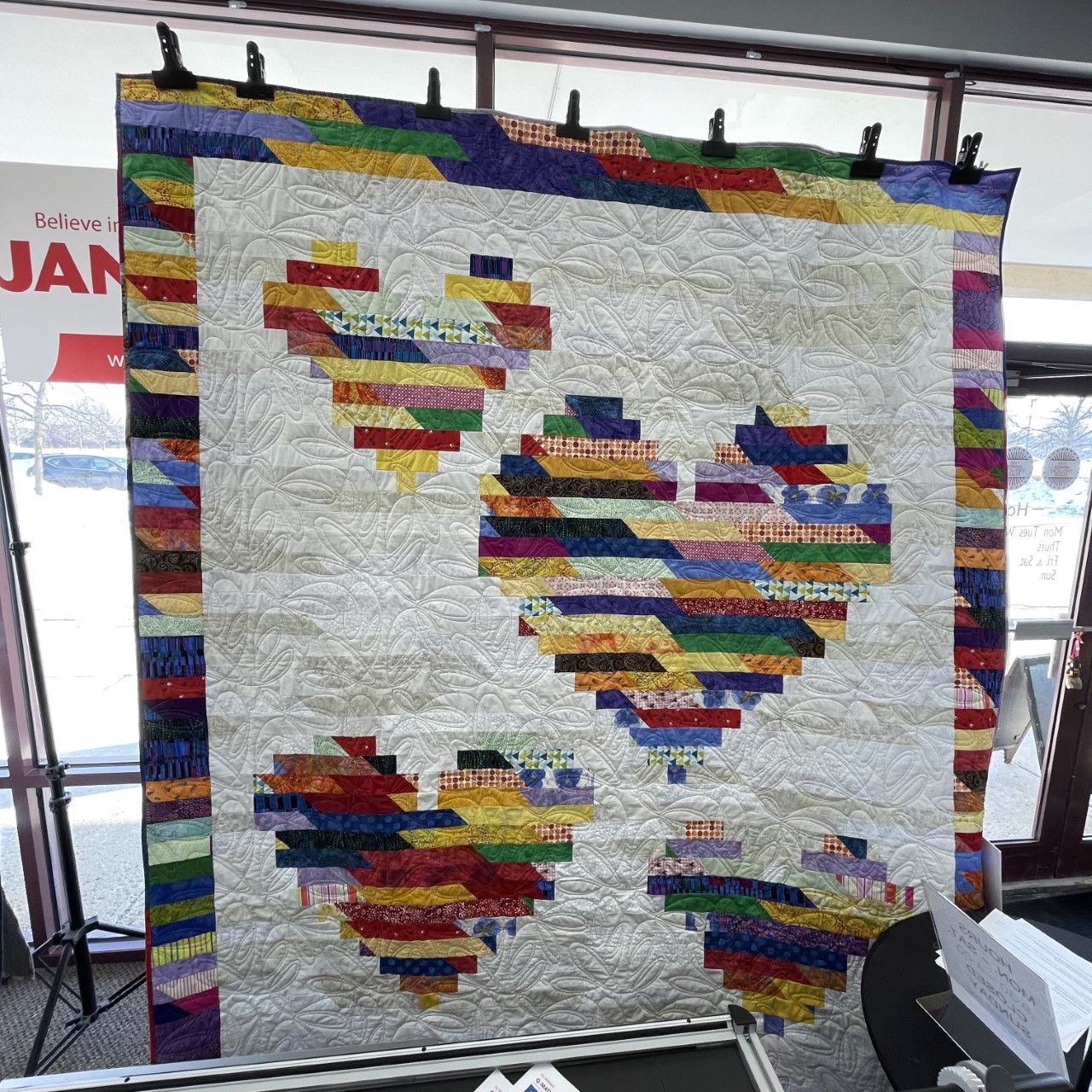 Lisa
Liz
Rita
Rosemary
---
Quilters Quest 2020 Challenge
For our challenge this year, we chose the Snowflake pattern by Modern Handcraft.


Celeste
So I wanted to make this quilt half it's original size (60x72). 30"x36" would have been perfect for the spot I intended to hang it. Unfortunately, I did the math in the late afternoon and shrunk the finished square size from 3" to 1". My quilt ended up 20"×24". Cute, but not the size I intended. I guess I will just have to make another one.
Jeanne
The scrappy version of the snowflake quilt is a great stash buster. My quilt was made entirely from my stash, including the back and binding. The snowflake is made up of all white-on-white snowflake prints and my favorite color is teal, so the background was an easy choice for me, since I have a lot of teal fabric!
Kate
I really liked doing the challenge. When I first saw the pattern, I thought Kaffe would be fun to do with the snowflake. I like the juxtaposition of the flowers and colors with the white moondust. Liz suggested the black and white striped binding. A perfect choice with so much going on in the quilt.
Kathy
The background is from a black and white jelly roll that I already had. The jelly roll determined the size (1/2 the original). My snowflake is a favorite color.


Lisa
I have been collecting snowflake fabrics for years, so I felt it was time to use them. I tried to make the space around the snowflake darker and fading to lighter fabrics in the upper left. I enjoyed the pattern and would make this quilt again in a different style of course.
Liz
.


Rita
They made me do it!


Rosemary
Always ready for a quilt challenge. Liz suggested the Snowflake pattern; I love blue, so I went with a scrappy look. Easy to put together; it is broken down into 20 blocks. Very happy the way mine turned out. Next time, I will make a smaller version.
Susan
I had a collection of purple and blue fabrics with silver accents that had be waiting for the perfect project. When this challenge was suggested, I knew they would be perfect!
---
Quilters Quest Spring Challenge
In January, during the depths of the winter, we challenged each other to make an inspiring spring quilt to remind us that one day we might see the sun again! Take a look at all the projects that resulted from our most recent challenge. It's amazing to see the variety in all the projects. Happy Spring!


Anita
I used the Quilts in the Garden pattern from Bird Brain Designs. I made 2 table runners because one I made a mistake on! I simply spit the designs and made a longer table runner and the other table runner is made correctly by moving the hoop and lining up the designs. I used my Janome 12000 for the embroidery. I did some FMQ around the designs and in the borders with my Janome 9400.


Celeste
I have a Kimberbell addiction and I do not want an intervention. When the staff decided on a spring challenge, I knew exactly what I was going to do. The new Hoppy Easter bench pillow is simply adorable. I made mine into a table runner and I am really happy with how it turned out. Happy Spring!


Jeanne
I prefer bright colors to pastels, especially after the dreariness of winter, so I chose to use a Basic Mixologie charm pack from Moda and the Lil Kira pattern from GE Designs. The pattern makes a table runner, so I used two charm packs and created a small quilt. I love how Gudrun's patterns use simple shapes to create something that looks so complex but is quite easy to do.


Kathy
Think Spring, Think Flowers! Wash away the winter blahs with color. This Atkinson Designs table topper will brighten up your room! Great for Easter too!


Lisa
I ran across an old jelly roll and coordinating fabric in my stash and challenged myself to make a ruffled baby quilt – wait for it – ALL on the serger. Well the quilt top was made entirely on the serger, then I did stitch in the ditch quilting and a standard binding by sewing machine. I think babies would love the texture and softness of the ruffles!


Liz
Similar to Jeanne's stash challenge, this runner was based off my border fabric which I got from QQ a few years ago. I had a picture of a runner similar to it so I reworked it in pastel/spring colors. All of the tumblers were cut on the Accuquilt which made it much easier! The appliqued bunnies add a nice touch to a simple runner.


Loraine
My spring project wasn't too challenging. I decided to make an example of how to use the adorable striped Easter fabric. I made a cheerful pillowcase with a quilted cuff. It would make a perfect addition to an Easter basket for that special person!


Rita
For the spring challenge I decided to use one of my jelly rolls from QQ and the pineapple ruler from Creative Grids. It was super simple using that ruler! Never in a million years did I ever think I'd do a pineapple quilt!!! I may be making another from scraps!!


Rosemary
I made the "Take Four" pattern, that uses 4 fat quarters and 1 yard for the backing. We have a beautiful floral collection called Harry and Alice that I used. You can bind the placemats or "pillowcase" them. I used my Bernina circular embroidery attachment to quilt the placemats and then finished them in the "pillowcase" way. Cannot wait to take them home to use!
Susan
My spring challenge is a UFO that I started at a retreat a few years ago. The pattern is Geese at my Wedding by Judy Niemeyer. I used 30s reproduction fabrics and I fussy cut all the little triangles. I love how bright and cheerful this quilted is. It's the perfect table runner for spring!


---
Quilters Quest Staff UFO Challenge
As a team, we decided to do a "Stash Buster" Challenge. The only rule was that we had to use only fabric from our stash, no buying new fabric. (That's especially hard when you work at a quilt shop!) It was great fun to see everyone's completed projects and we decided to share them as inspiration.


Rita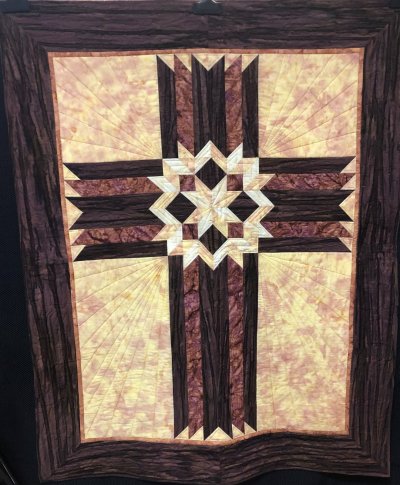 I didn't have a pattern, I saw a picture and loved how it looked like inlaid wood. For the quilting, I used a variety of techniques. I basted it on the Q24, then switched over to the Q20 using ruler-work (for the first time ever). As I practice more, I'm sure this technique will become much easier and more refined. I found doing the free motion quilting on the Q20 to be an absolute breeze and quite relaxing. I'd highly recommend it to everyone. Especially since I really haven't done much with free motion before this challenge.
Anita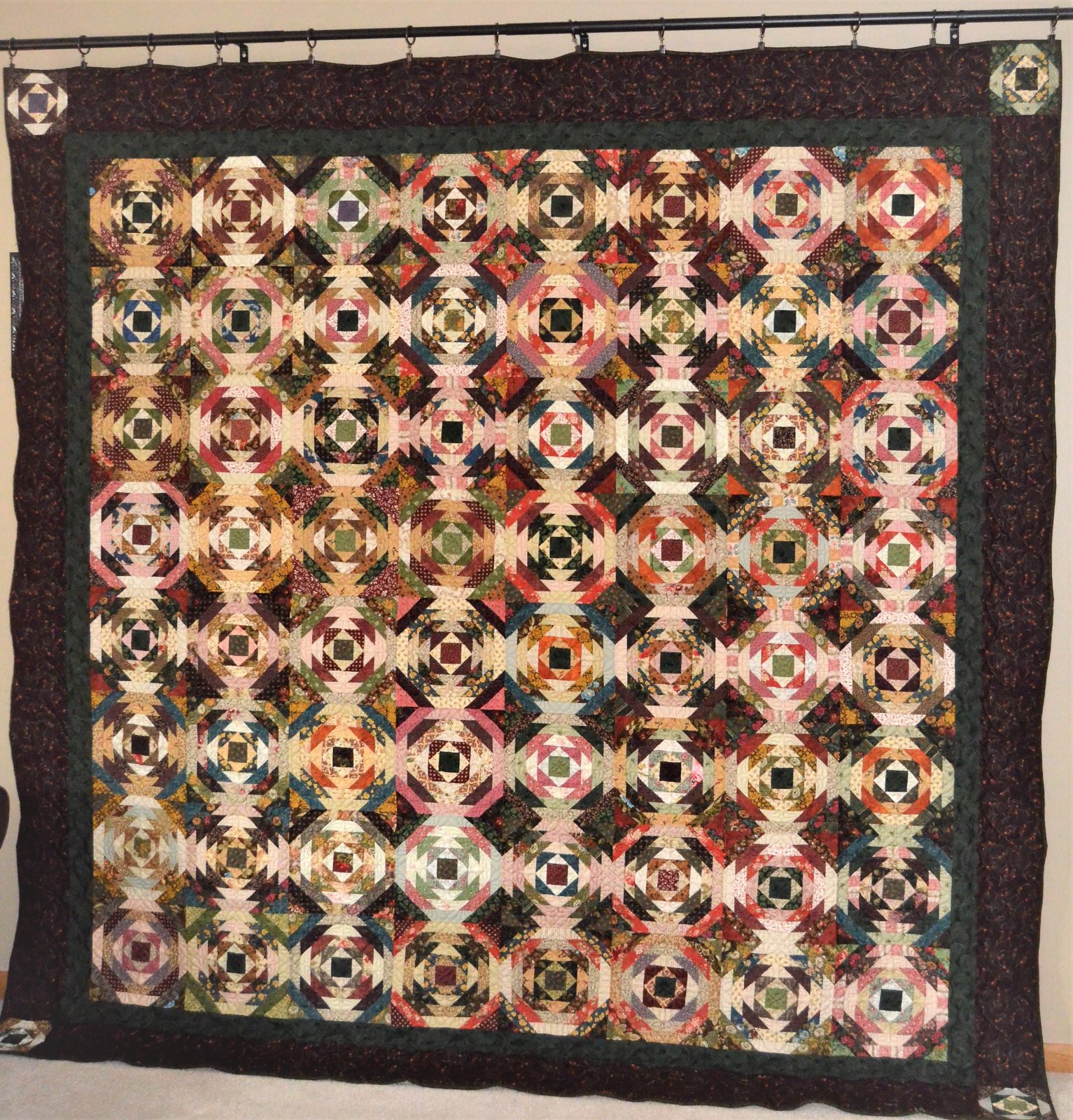 Name of quilt is Adeline. Designed with Vintage Style Reproduction fabrics from my stash. Pineapple quilt blocks were made using Creative Grids 4-6-8 sized Pineapple Ruler. Adeline measures 93x93, includes 2 layers of Hobbs Wool batting. With help and some pointers from Bob (LAB), I quilted this on Quilter's Quest Gammill/Stadtler. I have enough fabric from my stash to make another just like it!


Lisa
My challenge project was The Renegade Bag, a pattern by Sew Sweetness. The sloth fabric is Japanese cotton/linen by Kokka. No special tools were used but for bag making I do prefer a machine with the Dual Feed feature to handle thicknesses and sticky/tricky substrates like vinyl and cork. A machine with a DC (direct current) motor is also helpful because it has more piercing power.
Robin
My pattern came from the Imagine book by Art to Heart. I love the whimsy of these patterns. I did machine applique and free motion quilting. The size of my project is an accurate representation of the size of my stash.
Liz
I fell in love with the gray and magenta color palette and the fabric went into my stash waiting for the perfect pattern. When QQ taught Frame of Mind by Plum Tree Quilts I thought this would a good pattern for those fabrics. The simple piecing and variety of layouts made this simple color palette beautiful.
Jeanne
Borders are usually the last thing I choose for a quilt, but in this case, the border came first. I started with the argyle print and then chose fabrics from my stash in a variety of colors to match the print. The pattern is from the book 3 Times the Charm by Me & My Sister Designs and was written for charm squares, but I simply cut 5 inch squares from my fabrics to make the quilt.
Rosemary
I bought a Maywood Studio runner kit that was made from Lily of the Valley fabric. The kit also included the back and the binding.I was able to piece it and quilt it in a day. It was a lot of fun to make and it pieced very quickly.
Debbie
The pattern of my quilt is called Cranberry Chutney, it is a very easy pattern to make, it made me think of basket weaving when I was making the blocks. You start with a 8 1/2" sq. and a 1" strip of a different color. Then make your first cut on your block add your strip, turn 90 degrees or not cut add strip and keep going, doing something a little different with each block. I'm going thru a blue and green phase right now because I have another project on my "To Do List" that's blue and green also, so I had plenty in my stash to choose from.
Celeste
As soon as Quiltworx released the Polish Star pattern, I knew I wanted to make it. My grandparents were Polish, so I made it in the colors of the Polish flag. I love the unique paper piecing organization of Quiltworx which makes it a very enjoyable process.
Susan
I pulled a handful of fat quarters from my stash and used the pattern Mingle by Cluck Cluck Sew to stitch up this adorable baby quilt. I had enough fabric to make an extra row of blocks and even make a second quilt! I used minkee on the back and longarm quilted it with a puffy cloud design.
Loraine
Liz and I saw a quilt we both really liked and we each bought one yard of the same two fabrics: the multi-color floral and overlapping circles. Then we each chose our own coordinating fabrics and layout. Liz finished way before me, but I wanted to work with a tiny zigzag for turned-edge applique on my new Janome, which I was very pleased with. We both enjoyed the process of making the same quilt, but with our own personal touch!